There are so many streaming services today around the world that there is something for everyone's taste and interests. Though those services have an infinite catalog of various content, some are particularly focused on target audiences, like Crunchyroll. If you are interested, you may want to keep reading to understand this service more by learning a few things, such as how to change the payment method on Crunchyroll or how to watch content offline.
Crunchyroll started back in 2006 in San Francisco, California, and 16 years later is one of the most significant streaming services in the world. With a wide variety of anime, manga, and drama content, Crunchyroll has over 120 million subscribers that share their love for Asian entertainment. So let's find out more about it…
How to change payment method on Crunchyroll
When you get a premium subscription, you have to enter a payment method from where they will charge you every month, like all other services. However, Crunchyroll lets its users choose between credit cards or Paypal, along with changing the method anytime they want this way.
First, here is how you change it to another credit card:
Enter Crunchyroll and make sure you are logged into your account.
Click on the profile icon that is located in the top right corner.
In the new menu, enter Settings.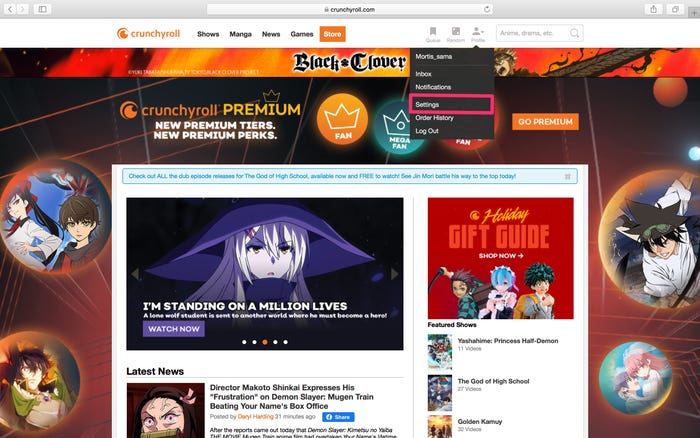 Now you have to choose Premium Membership Status.
Next, click on the Change card option.
The following step is to write all the information and data from the new card.
Once all the information is submitted, you have to enter this link https://www.crunchyroll.com/acct/membership, and the process will be completed.
If the previous method didn't work, you could try looking for account settings and then premium membership status instead.
If you have your PayPal account linked to Crunchyroll and instead change it to a credit card, you have to do the following procedure:

This time you have to enter your PayPal account.
Go to the recurring payments option.
Select the charge for Ellation, Inc.
Delete the subscription.
Then go to Crunchyroll and submit the information for the new credit card.
Tip: You should cancel your subscription the last day before they charge you; otherwise, you would have to wait before linking a new payment method.
How to cancel your subscription on Crunchyroll
There are a few different ways to cancel your Crunchyroll subscription, the first one being to cancel it through your PayPal account, as we explained earlier. Still, if you want to cancel through your credit card, the following method will help you:
The first thing you need to do is to enter the Crunchyroll website through your computer browser.
Then click on the profile icon.
This will open a new menu, where you have to choose the Settings option.
Choose the Account settings option.
Go to the Premium Membership Status.
Click on the Cancel button located on the right and confirm your cancellation either canceling your current payment or your premium subscription at all.
Tip: When confirming the cancellation, you can choose "Cancel the recurring payment" if you want to keep using your premium subscription until your next billing.
For the people that have their subscription through iTunes, the method will be slightly different:
This method can be done on any iOS device. Still, if you do it on an iPad or iPhone, you have to start by entering the Settings app, but if you rather do it through your iMac, you have to go to the Apple app store instead.
Go to the Subscriptions section.
Now look for Crunchyroll and click on it.
Finally, tap on Cancel subscription.
You can also cancel a free subscription this way called "nuking":
First, enter this link https://www.crunchyroll.com/nuke
Next, they will ask you to do a survey asking why you would like to cancel your subscription.
Once you have filled it up, you can click on the Deactivate now button.
Click on Ok to confirm, and now your account will be permanently deleted.
Tip: nuking your account is irreversible, so unless you are sure you won't use Crunchyroll ever again, we recommend you avoid doing it.
Why you should get a Premium account
Maybe you are hesitating on getting a Premium account on Crunchyroll because you can enjoy the service for free. Still, a paid subscription will give you lots of benefits that will vary according to what plan you choose.
The service has a few options about the packages with different price ranges starting from $7.99 up to $14.99 per month to allow users to enjoy their services at affordable prices. However, some of the most expensive plans will get you exclusive access to original merchandise, discounts, and early access to new content.
Also, premium accounts don't have ads; you can use your account on multiple devices, better quality video, and of course, offline content. Finally, if you still aren't sure about the subscription, you can always get a free trial and see if the platform is amusing to you, or if you do get it, you can cancel it anytime following one of the procedures we explained above.
Is the Crunchyroll store safe?
A common question among new Crunchyroll users is the legitimacy of their merchandise because they tend to be very economical and supposedly original. However, they are genuine, and most users had had a pleasant experience when they bought from Crunchyroll's store.
All of their stock is directly from Japan, and each product comes with a license from the manufacturer. So you can buy something as little as a keychain, passing through a plushie, all the way to a costume. Also, as we previously mentioned, some subscriptions get periodic discounts and practically free stuff on exceptional occasions.
Lastly, their free shipping threshold is reasonably low, you only have to surpass the $100 mark, and your shipping will be free to wherever you are, and, depending on your location, your order can arrive after a week or so.
How to get a subscription for a friend
Among the many features of Crunchyroll, there is an option that allows you to give a subscription to someone else. This is a gift that any anime fan would love, and it can be done in a few steps:
Once you have entered your Crunchyroll account, go to the profile of the person you would like to give the subscription to.
Click on the option that says Send Gift.
Now choose one of the membership plans that they offer. You can select either a monthly subscription or a yearly one along with being a Premium Plan, a Premium Plus Plan, Mega, or Ultimate fan plan.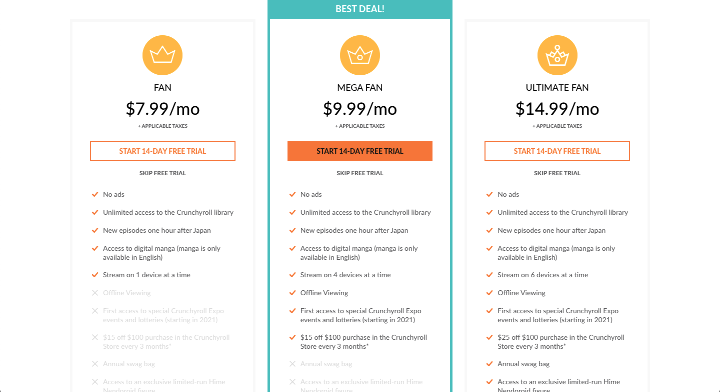 When you select the package, the gift will show on your shopping cart, and you have to click on Proceed to check out.
Lastly, you have to choose your payment method, if you already have a premium account and your info is submitted it will automatically charge you there and the subscription will be sent to your friend.
How to change your location on Crunchyroll
Even though Crunchyroll is available in over 200 countries, some shows and series don't appear in some places. Perhaps your favorite show is one of these, but luckily for you, you can try changing your location following these steps:
You'll have to get a VPN to mock Crunchyroll's geo-restriction system. Once the VPN is downloaded and settled, you have to launch it.

You'll have to get a VPN to mock Crunchyroll's geo-restriction system.
Once the VPN is downloaded and settled, you have to launch it.
Connect it to a server location. Make sure it is a place where the content you want to watch is available.
Enter Crunchyroll and look for the show. If it still doesn't show, you can't try closing the app or the tab and wait a couple of minutes, and then enter again.
Tip: Most free VPNs won't work on Crunchyroll, but you can try using CyberGhost, Surfshark, or NordVPN, proven to work on the platform.
How to watch content offline on Crunchyroll
As we mentioned earlier, this is one of the benefits of owning a premium account on Crunchyroll. This feature will let you watch all the content you want, Even when you are not connected to an Internet network.
To have this feature, your account must be a Mega or an Ultimate Fan subscription, which will also give you other perks according to which package you choose.
Final Lines on how to change payment method on Crunchyroll
Luckily for anime lovers, Crunchyroll is a very user-friendly service, so most procedures will be pretty easy to do. This service is excellent for people who love this kind of content, and even though they aren't the only ones who have some of the anime series, they have an immense repertoire yet, so it is very probable that the show you are looking for is in there.
We hope you can enjoy your favorite anime and manga shows now that you know how to change your payment method and watch content offline with your friends.
More Posts for You: