Social platforms try to have the most original concept to make them stand out from the rest. Snapchat, the ghost social media, became popular around 2015, though it was first launched in 2011. This post share a few tricks on the app, such as how to clear your recents, your chats, and your memories, along with secret functions regarding many features on Snapchat.
Their innovative concept of sharing quick instant shots with your friends and a fair gallery of fun filters gained millions of users across the globe, making Snapchat one of the most popular media in the world.
Of course, as the company grew, so did its features. After a couple of years, they weren't only the 'snap' pictures app but also introduced chats and very famous stories that started on other platforms.
Let's get started…
How to clear Recents on Snapchat
There are a lot of ways to clear your recents on Snapchat, next we will show you the quickest and easiest way to do it:
Open the app and log into your account.
Next, click on your Bitmoji to open your profile.
Tap on the Gear icon.
Look for the Privacy section.
Click Clear Conversation.
When you select this option, they will show you the usernames of the people you have been talking to. Next, click on the X on the side of the name you want to clear.
There is also the option to Clear Search History. Tap it if you want to do so, and then confirm that you want to clean it.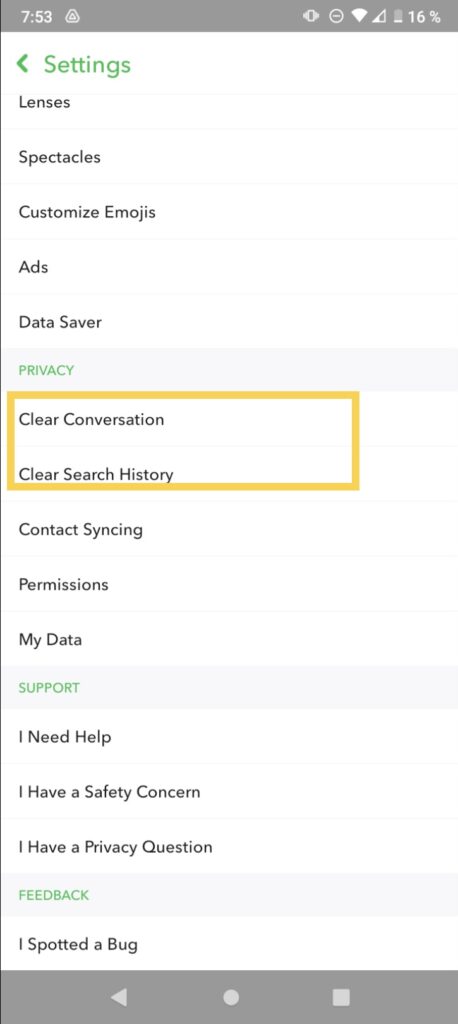 You can also scroll down until you find the Accounts Actions section.
Now you can clear your cache, cameo selfies, scan history, and scan story by tapping on the respective option.
Tip: the previous procedure won't let you discern any of the information you are deleting, so if there are messages you would instead save, we recommend you keep reading.
How to clear your Chats individually on Snapchat
The following method will be beneficial if you would like to clean your messages section, especially if they are old conversations with people you don't talk to anymore or rarely. Start this way:
Open the Snapchat app and go to the chats section.
Select the conversation you want to clear.
Tap on your friend's Bitmoji to open their profile.
Click on the Three-dot icon in the top right corner.
Select Clear conversation.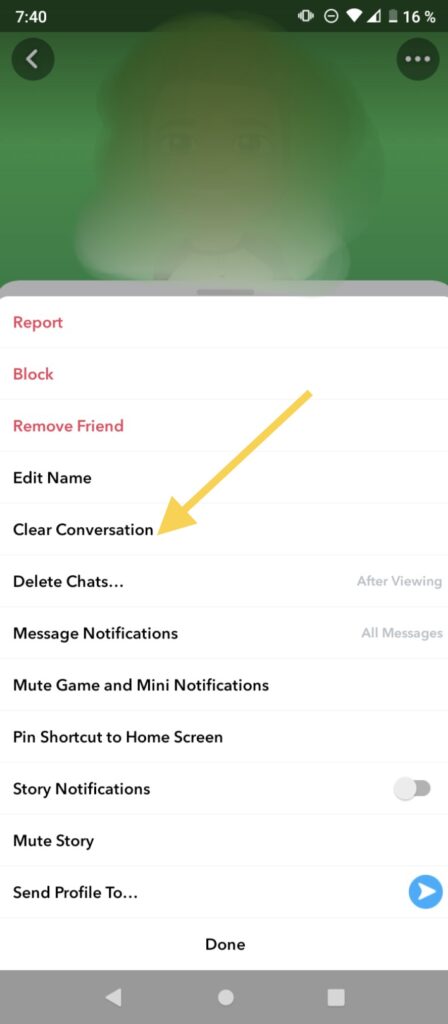 Tip: when you clear the conversation, all the messages will be deleted, even the saved ones, but the conversation itself will remain in the chats section.
How to clear your Memories on Snapchat
The Memories on Snapchat are like the gallery. The app has this feature that works like a cloud where you can store any picture or video taken on the app.
Still, they can accumulate over the years, and maybe you have a lot of media you aren't interested in anymore. You can clear all your Memories at once with the following steps:
Open the app.
Go to your Memories.
Tap the Check icon in the top right corner to select the snaps you want to delete.
Scroll through the gallery while clicking on Select All to choose all the pictures from the same date.
Next, tap on the Trash icon.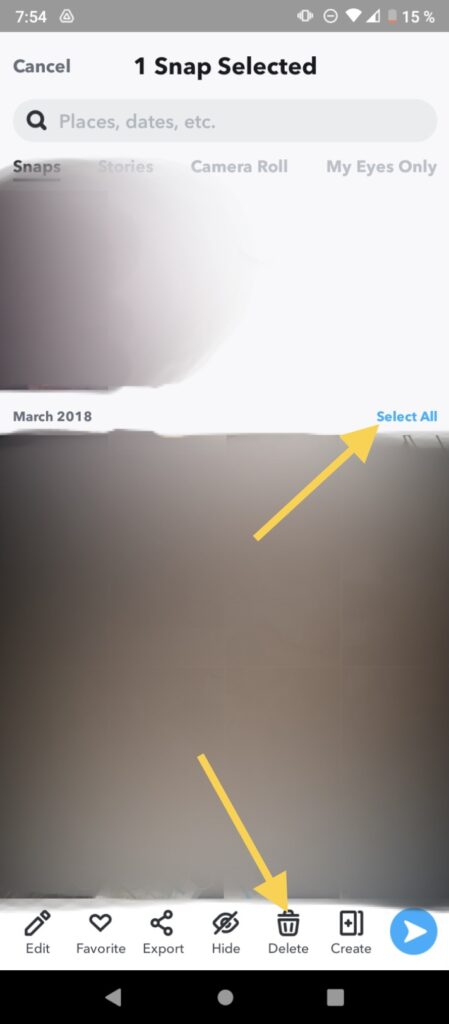 Confirm that you want to delete everything you selected. If there was a lot of information, it might take a while, depending on your Internet connection.
This exact procedure will work if you would like to save your snaps into your phone gallery. You have to select Export instead of Trash and then download.
Tip: once you delete a snap, you can not recover it, so we recommend checking what you are removing before confirming that you want to delete it.
How to clear your Best Friends list on Snapchat
One weird thing about the 'Best Friends' feature is that you can not choose them. Snapchat will automatically put people on this list according to how much you interact with them. Still, there are a couple of tricks you could try to take someone off here:
Unfriend them: even though it is a bit radical, it is the most effective. It will work for you if the person you want to remove from your list isn't your real friend. You can do it this way:
Go to your chats.
Choose the conversation with the person you want to unfriend.
Tap on their Bitmoji to open their profile.
Click on the three-dot icon in the top right corner to open the settings.
Choose the option that says Remove Friend.
Confirm that you want to remove them.
They will no longer be part of your friends' list.
Interact with them less; if you decrease the level of communication between you and this person, the algorithm will take them out of your list. But, if you don't want them to notice that you are cutting them off, you can try interacting way more with other people.
Block them: when you block someone on Snapchat, they aren't notified or even can't notice that they are blocked because their messages will still be sent, while the receiver won't know.
Fun tricks on Snapchat
There are a lot of great things on this app. Many of them aren't often discussed, so we have gathered a few 'tricks' that may help you while using Snapchat.
Select your conversation preferences: maybe you are talking to someone you don't trust and would like your messages to leave after they are viewed. This preference is effortless to do. First, open the person's profile, and select the option that says Delete Chats… And select when you want them to be deleted, either after viewing or 24 hours after viewing.
Shortcuts: the shortcuts are self-explanatory. You can pin someone you talk to very often to ease your way to their conversation. To create a shortcut on Snapchat, you only need to go to your chats, tap and hold the conversation you want to pin, then press the icon as they explained and place it on your home screen or where you would like to. The shortcut will allow you to enter directly into the conversation without opening the Snapchat app first.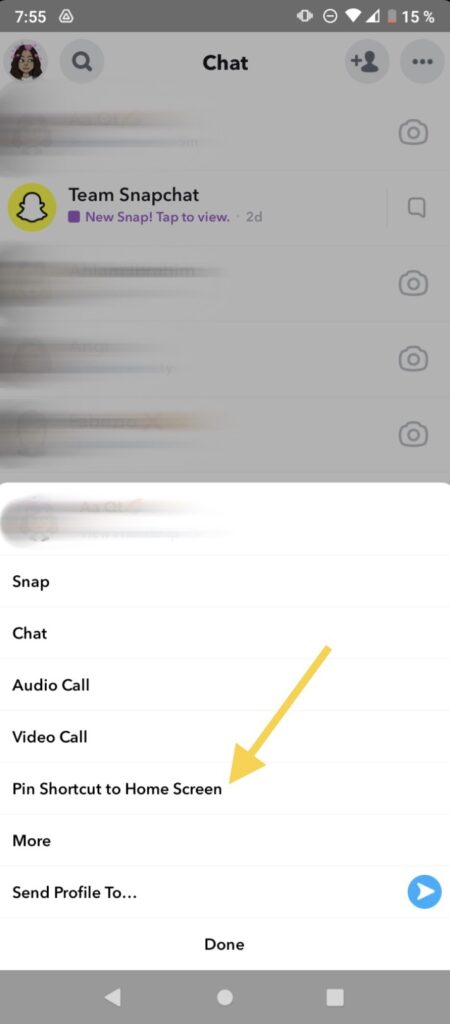 Mute someone: this trick will be beneficial if you are tired of seeing one of your friends' constant stories, but you can't block them, less unfriend them. Like other social media, you can mute them by opening their profile, then going to settings and selecting the Mute story option.
Find out if someone follows you: if you suspect that someone doesn't follow you even though you do follow them, you can check it out by looking for their username and opening their profile. If you can see their score, they are following you.
Hide your location: as you may know, Snapchat has a unique map section that allows your friend to see where you are at the moment. Still, if you are not a fan of this, you can turn it off anytime you want:
Open the Snapchat app.
Click on your Bitmoji to open your profile.
Tap on the Gear icon located in the top right corner.
Scroll to the section called Who Can…
Select the See My Location option.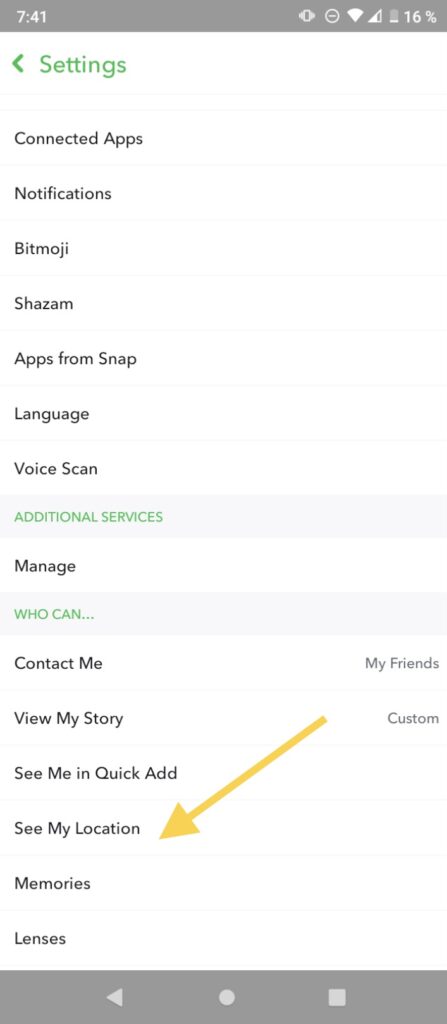 Tap on the toggle next to Ghost Mode to enable this feature. You can come back anytime you want and turn it off. When it is active, your Bitmoji won't appear on the map, meaning your friends won't be notified about your location.
Here you can also filter who can watch your location; you can choose between all of your friends, just a few of them, or all except some people.
Final Lines
Snapchat isn't mainly known for being a private app. However, everything you do regarding another person will be notified, such as a screenshot, saving a message, and so on.
Still, your memories, your chats, and your search history can not be viewed by anyone rather than you, and of course, there are a couple of things you can manage the way you want, such as your location.
Luckily, if you don't want to leave traces of your movements on Snapchat, clearing your chat history, lens, memories, and more through your profile settings file is effortless.
Before we end this article, we recommend you try the fun tricks we talked about and don't forget to share with your friends if the information was helpful.
More Posts for You: