The greatest thing about Snapchat is that its whole concept resides because everything is instantaneous. If you share a picture on your story, it can only last 24 hours; if you send it to your friends, they will only see it for seconds; and if you talk to them, the conversation will be deleted. However, many of you wanted to know how to delete the Snapchat messages the other person saved.
Snapchat users could save their memories, as long as all persons involved are aware of that, so you can not take a screenshot or save a message without others knowing.
This creates a lot of controversies and fear about what you are sending and who you are sharing it with, mainly because you can't control it. So, if you constantly struggle with this, keep reading this article, where we will show you how to delete Snapchat messages the other person saved, along with similar tricks.
How to delete Snapchat messages the other person saved
As we mentioned earlier, the particular thing about Snapchat's messages is that they will delete after you get out of the conversation, but they can be saved.
However, you should know any saved messages will be notified to both parties, and even if one of them doesn't want it on the chat, it will remain until it is unsaved. So if one of your friends saved one of your messages and you aren't thrilled about it, you can unsave them this way:
Once you have opened the app and logged into your account, go to the chats section.
Enter the conversation with the message you want to unsave.
Tap and hold the selected message. Here you can see who saved the message, if it says You, then just tap on Unsave in Chat.
Now click on Delete.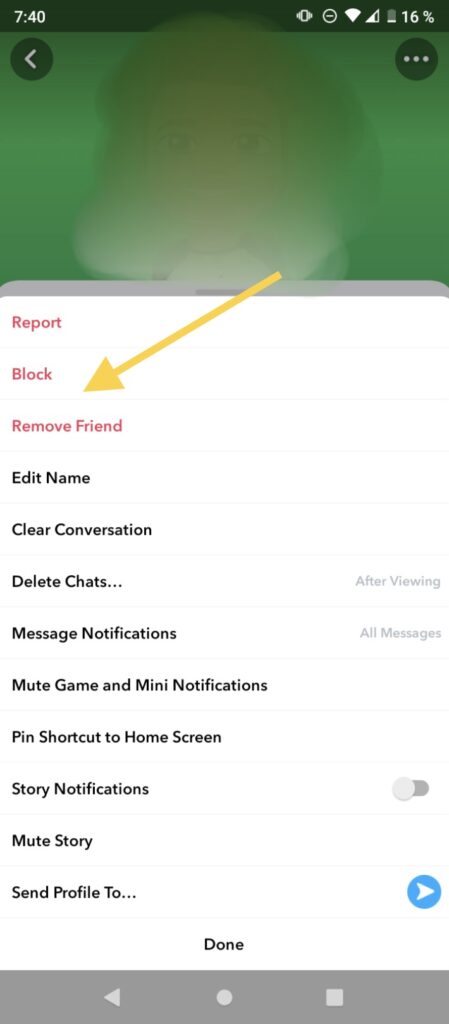 Confirm that you want to delete it. The message will disappear.
Tip: be aware that the other person will be notified if you unsave the message. Also, this method will only work if you sent the message you want to delete, otherwise, you can't take it away this way, but you can try the following.
How to delete Snapchat messages the other person saved but you didn't send them
This second method is more radical than the first one, but it won't be a problem if you don't want to be friends with the other person anymore. It consists of blocking the other person, which you can do by following these steps:
Open the Snapchat app and make sure you are logged into your account.
Go to the chats and open the conversation with the person you want to block.
Now click on their Bitmoji to open the information about their profile. Here you can also see when you started to be friends, what messages are saved on the chat, their location, and more.
Click on the three-dot icon located in the top right corner.
Select the block and confirm that you want to block them.
Tip: when you block someone, the whole conversation will be deleted entirely, and of course, you will no longer have contact with the other person until you unblock them and friend them again.
How to unblock someone on Snapchat
If you followed the previous method to delete someone's saved message but you want to keep them in your friend list, you can unblock them this way:
When you have opened the app, click on your Bitmoji in the top left corner to open your profile settings.
Click on the gear icon in the top right corner.
Scroll down to the Accounts Actions section.
Tap on Blocked. Here you will see all the accounts you have currently blocked.
Click on the X located on the side of their name and confirm that you want to unblock them.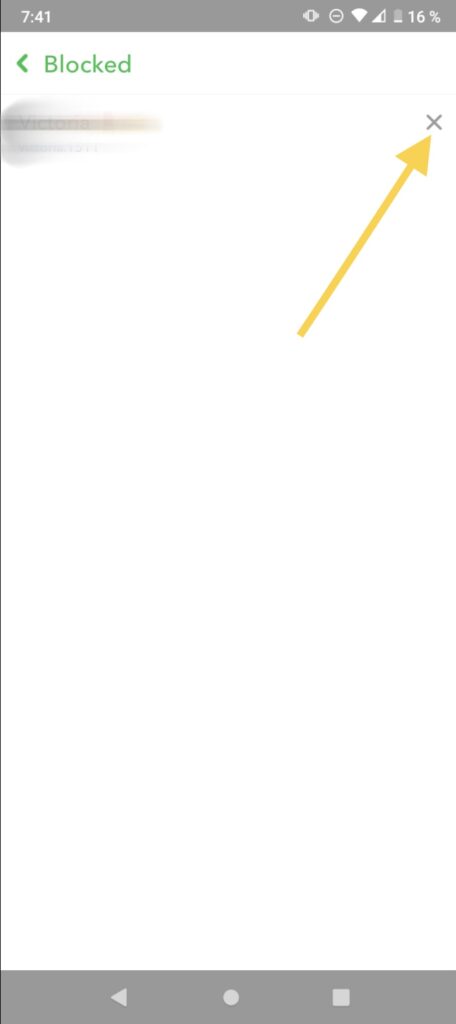 Now, if you want to keep talking to this person, you have to add them again as you would normally add a new username, if you don't remember how to do it, just follow the next steps:
Tap on the Add Friends icon located in the top right corner.
Write your friend's username.
Click on Add.
They will appear on your chats, but the former conversation won't be recovered.
Tip: the other person won't be notified when and if you unblock them, as they weren't notified when they were blocked in the first place. Still, if you decide to add them to your friends' list again, they will know.
Snapchat tricks you may not know about
Extremely detailed drawings: if you are talented enough and often get frustrated because your drawings aren't as detailed as you want, you can't try activating the zoom feature on your phone.
You just have to the following steps:
Go to your phone Settings app.
Next select the General section.
Click on Accessibility.
Tap on Zoom to enable the feature.
Select the size of the zoom you want and the format you want to appear on your screen.
Go to Snapchat and locate the window where you want to draw.
For Android, you can do it this way instead:
Open the Settings app.
Scroll down and select Accessibility.
Click on Magnification.
Turn on the shortcut.
Now it will appear on the bottom as a new button.
Go to Snapchat.
Tap on the shortcut.
Click on the part you want to draw.
It will magnify the section and now you can add the detail you want.
Solve a math problem: this is a fairly new feature on the app contained in the Scan section. Follow these steps to learn how to solve tedious equations:
Open the app.
Go to the camera.
Click on the Scan icon.
Open the window with the options.
Click on Solve a math problem.
Focus on the equation.
Once it is recognized by the app, they will send you to Photomath through a link where the problem will be solved.
This way you can also find out the breed of a dog, a type of plant, and more, by clicking on the respective option.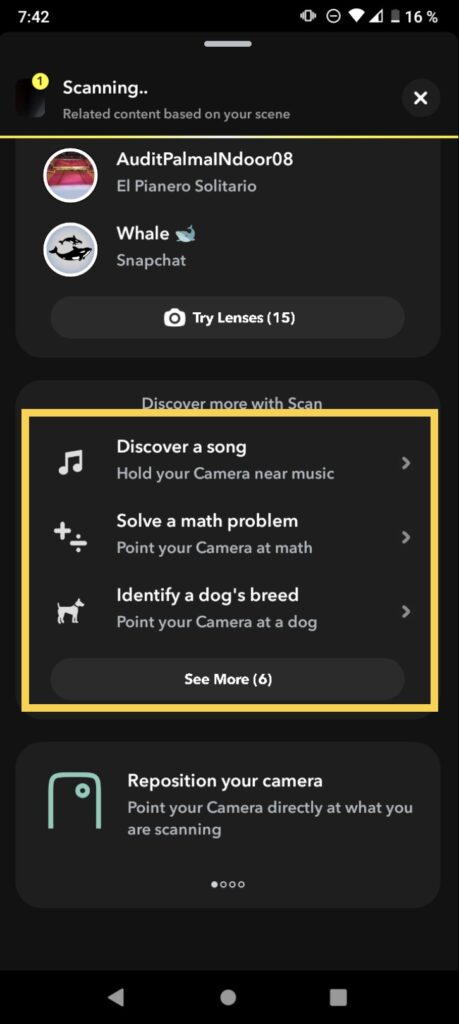 Use an old Geofilter: were you a fan of a limited edition Geofilter and now you want to use it again but it is gone? Don't worry, as long as you have it in your Memories, you can use it again anytime you want this way:
Open the Snapchat app.
Go to your Memories.
Look for the snap that has the filter.
Click on the brush icon to edit the snap.
Swipe left to look through the filters that were available at the moment you took the snap.
Save the filter you want to use.
Close the memories and now take your new snap using the old filter.
Customize your emojis: as you may have noticed, Snapchat is all about emojis. The icons have different meanings regarding the status of your friendship with someone else. You can customize all of them any way you like this way:
Once you have opened the app, go to you to profile by tapping on your Bitmoji.
Now, click on the gear icon in the top right corner to open the settings.
Scroll until you reach the Who Can… Section.
Next, tap on the option that says Customize Emojis.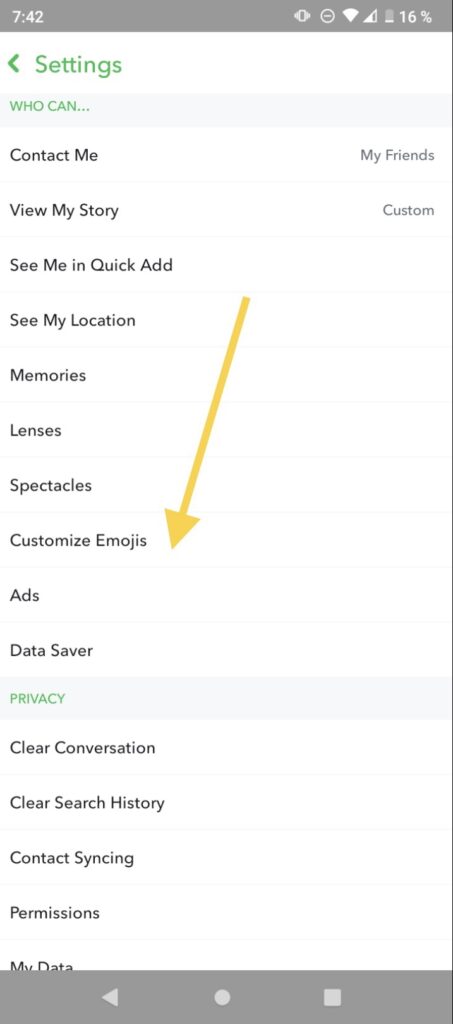 All that is left is to select your new emojis for each category by clicking the one you want to change. You can try using a theme like animals, plants, foods, or anything you like the most.
Optimize your discovery page: the discovery section on Snapchat is dedicated to showing you new content that may draw your attention, however, users often find it rather uninteresting. If you are unhappy with your discovery page, you can optimize it using this trick:
Open Snapchat and log into your account.
Go to the settings, you can do this by tapping on your Bitmoji and then on the gear icon that is on the top.
Look for the section called Additional Services.
Enter to Manage.
Now click on Advert Preferences or Lifestyle & Interests.
Tap on the toggles regarding the topics you are interested in to turn them on.
Go back to your discovery page and see if there has been an improvement.
If it is still boring, you can try closing the app and opening it again or wait a couple of minutes. After a few days, the algorithm should pick off your preferences and your discovery page should be perfect for you.
Final Lines
Snapchat has a lot of great things, like the fact that practically anything can be a secret. Of course, this works double ways, and we hating it sometimes. Try not to send compromising things to people you don't fully trust, but if you do, remember this trick to undo your actions before they get to take a screenshot.
Hopefully, you can now mess with your friends and they can not use your words against you anymore. If you don't mind sharing your new secret, share this article with your friends so they can also know how to delete messages the other person saved by deleting it or blocking them.
In case none of the previous methods worked for you or you are really upset by the saved messages, you can always delete your account through your settings.
More Posts for You: