This article will show you how to mark as unread Facebook messages both on the mobile app and on the desktop version.
---
Quick Solution
On the app – In the Chats screen, tap and hold a conversation you wish to unread. Next from the popup menu tap on Mark as Unread
On a computer – Open Facebook and click the Messenger icon to show the Chats. Next click on the three dots on the chat you wish to mark as unread, and click Mark as Unread
---
We all know that when you view a message that was sent to you on Facebook Messenger it is marked as read so that both you and the other person knows it's been read.
This is a good feature that helps you keep track of the messages you've read and what is left to be read.
But what if you want to keep this info private?
In that case, you might want to mark a message unread on Messenger and in this post, we will be sharing how to mark a message Unread on Messenger for both the mobile app and the desktop version.
How to Mark A Message as Unread on Messenger?
Unmarking a message on Messenger is a very easy process and depending on which device you access your messages it can literally take a few seconds to complete.
Mark as Unread From Facebook.com
Let's start with the Desktop version first.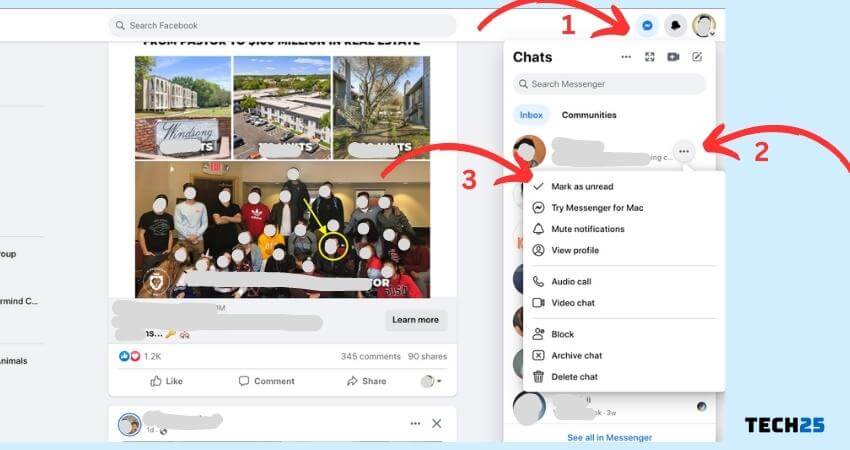 Open Facebook on your browser
Click the Messenger icon to open the Chats feature
Click on the Three Dots menu on the chat you want to mark as unread
Click on Mark as Unread
This will disable the option of the other person to see if you've read the latest messages or not
Mark as Unread From the Messenger App
Now let's see how to do the same from the mobile app.
Open the Messenger app on your phone
On the Chat screen ( the main screen ) tap and hold a conversation you want to mark as unread
When the popup menu appears, tap on Mark as Unread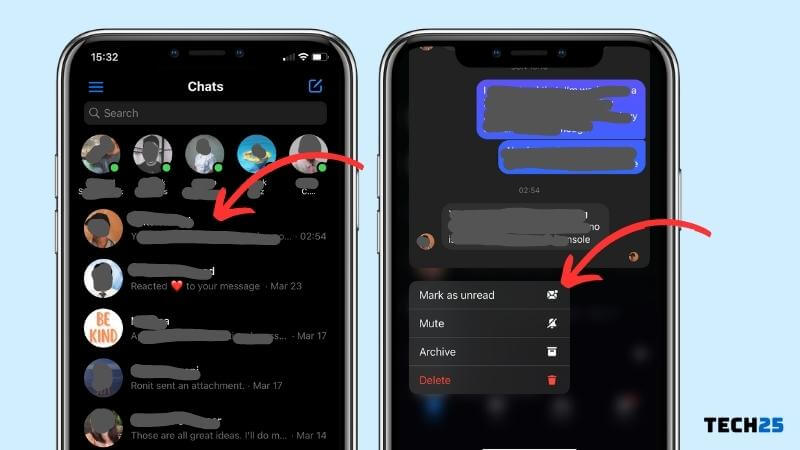 NOTE – Please remember that this feature basically works as an organizer for YOU. It will NOT Mark the messages in the conversation as Unread to the other person, rather only for YOU.
If I mark a message as unread will the other person know
No, once a message have been read by you, and after that you mark it as unread again, it will still show as read to the other person.
The unread option is basically just for you, so you could mark to yourself that this message was not read by you.
Do NOT think that by marking a message unread, you can trick the other side as if you never really read their message.
Ok, but what if you want to hide that you have read a Facebook message from the sender? You can do that too!
We have some tricks for you. We have to say that these tricks should work. Still, you should take caution as Facebook keeps changing their app and site so these might stop working at one point
Tip #1 Use the Notification Panel
Normally, when you receive any new messages on Messenger, you will get a notification. Interestingly, if this is a small message, then you will be able to read the message directly from the notification bar.
Yes, you don't have to open that particular Messenger chat, yet you can read the entire message.
That way the sender will not be aware that you have read the message already. But in reality, you have read the message.
After reading the first message, swipe the notification left/right side of the screen to remove it. That way, you will be able to read the next message using the same method.
Because if they are sending multiple messages at once, the notification shade will fill up pretty soon. And, you will not be able to read all the messages from there.
Thus, it is a better idea to clear out the notification panel once you have read each message.
Tip #2 Use the Airplane Mode
Chances are you have received a lot of messages from someone, and you could not read them from the notification bar.
Now, you must read the message from the Messenger app. However, once you have read it from Messenger, it will be marked as 'Read'. Here's another tip to follow to try and avoid that
Steps to Follow
Let's say you have received a message from a person, and you don't want them to find out that you have read that message. At that moment, turn on the 'Airplane Mode' on your phone.
And then read the message. You could also take a screenshot to read it later.
Now, force close the Messenger app and, if possible, clear the cache.
That way, you can check the Messenger messages, but they will not be marked as 'Read'.
How to Turn on Airplane Mode
If you don't know how to turn on airplane mode, then this part of the post is for you.
Bing out the notification panel by swiping down from the top of the screen.
Now, look for an icon that looks like an airplane. This is the 'Airplane Mode' icon.
So, tap on that icon to enable the 'Airplane Mode' icon. Normally, once the 'Airplane Mode' is activated, the icon will be highlighted.
You can disable the Airplane mode by tapping on the icon again.
Remember, once you have activated the 'Airplane Mode', there will be no network connectivity on your phone.
So, after you have checked the message, you should disable the Airplane Mode. Otherwise, you will not receive the next messages.
Sum Up
With the increase of Facebook users, Messenger has become the number 1 instant messaging and communication app globally.
Interestingly, Facebook is going to merge both Messenger and Instagram next. So, you can use Messenger to send messages to other Instagram users.
Many of you wanted to know how you can mark a message 'Unread' on the Messenger app. You might want to know this trick to hide your activity in Messenger yet taking a look at a recent message you have received.
Or you might have wanted to learn this normally. Whatever the case, we have tried to share multiple ways to do that in this post.
We have also explained some important tips on how to hide that you have read a message on Messenger. We hope this post will come in handy in the long run for you.
If you are a Facebook user, then you can read our interesting post on 25 Fun Facts about Facebook Every User Should Know. You will enjoy it. And, don't forget to share this post with others!