Social media is one of the biggest parts of our lives since these platforms let us be in touch with our loved ones, express our thoughts and keep us entertained. If you are down to a quick trip to memory lane, the next article will show you how to see old Instagram bios, other people's old usernames, and more.
Most people have at least one social media, often being Instagram the chosen one. Instagram is mainly known for being the app for pictures and videos, even though it has grown to be even more than that. Still, it is full of memories.
Instagram has been around in our lives for so many decades that we often forget that it is actually 11 years old. Maybe you have been using this app for that long and was part of your late childhood and early teen years, so it has changed as much as you have.
How to see old Instagram bios
You should have changed your Instagram bio once or twice since you first opened your account unless you have created multiple profiles. If you are curious to see what you used to share with your followers, you can see your old Instagram biographies this way:
Launch the Instagram app and make sure you are logged into your account.
Go to your profile.
Now tap on the three-line icon located in the top right corner.
Next, select the option that says Your activity.
Click on Account history.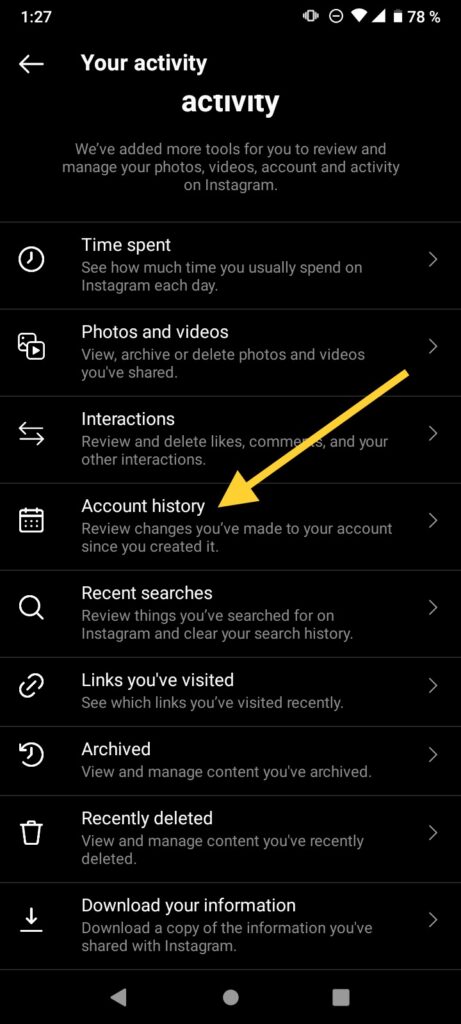 You will be able to see the most recent changes on your account, scroll down until you find the old bio you are looking for.
What is the "Your activity" section?
As its name says it is a division on Instagram where you can see all kinds of old activity on your account, since the moment it was first created. It is divided into different categories depending on what you are looking for, here is a quick summary of the things you can find here:
Time spent: this one will tell you the daily average time you spent on the app. It shows a simple bar graph of the last week along with a different option to manage your time, such as reminders regarding your time.
Photos and videos: this one is more useful for people who have a lot of posts since you can see them more quickly and filter them the way it suits you the most.
Interactions: this category is dedicated to your exchanges with other accounts, such as likes, comments, and story replies, including polls and quizzes. This can be very handy if you liked something and can't remember the account it was from.
Account history: as we mentioned earlier, here you can see all the changes you have made to your account, including bio, privacy settings, email, username, any kind of information that you changed in the past. You can also filter it to the date you are looking for.
Recent searches: all the accounts you have looked for in the Search section will appear here. Also, you can clear all the history.
Links you've visited: as it says, here you can check all the links you have clicked on recently. Also, it is very useful when you can't remember where you saw something you liked.
Archived: this section is the same as when you open the Archive through your profile. You can see all your Stories organized by date and even by location.
Recently deleted: this one will show you any type of media that you deleted lately, don't worry, as the rest of this section, you are the only one that can see them.
Download your information: here you can ask for a copy of all your data and posts. It will be sent to the email address you have synced your account to, but you can write the one you preferred. This feature can take over two days, depending on how much information your account holds.
How to see someone else's old username
Even though this feature exists on Instagram, it is only available for verified accounts, so sadly you won't be able to see this type of information on your friends' accounts. Still, if you are interested in knowing how to do it, here are the steps:
Once you have opened the app, go to the Search section and look for the account you want to know the old information.
Click on the three-dot icon that is in the top right corner.
Then, choose the option that says About this account.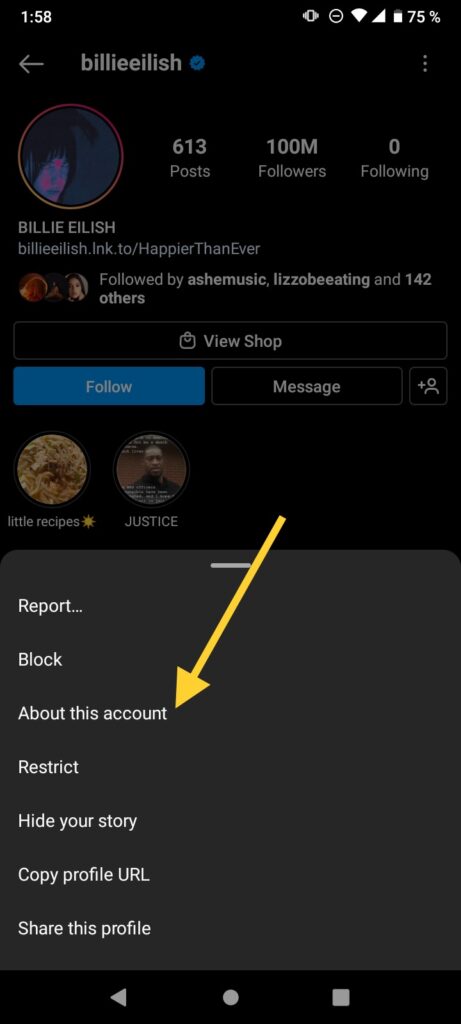 Now select Former usernames, and you will see all the changes the account has made in the past, including the date they changed it.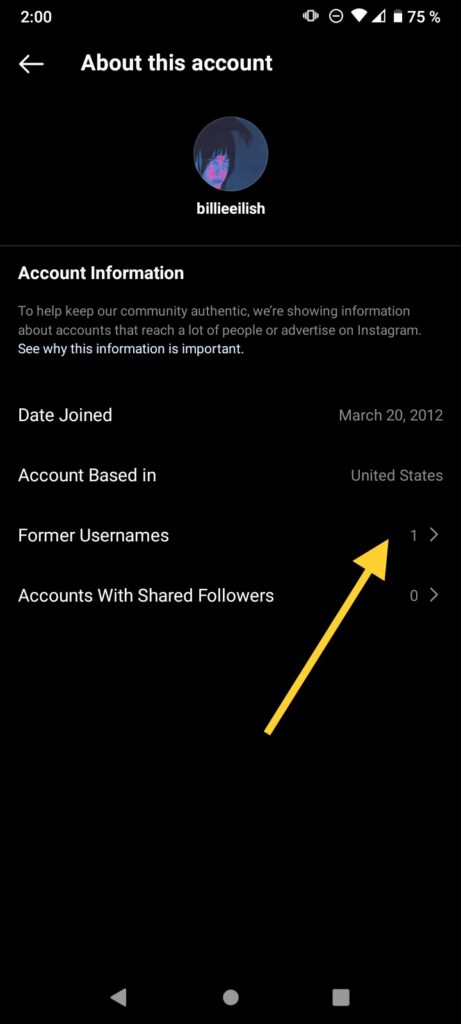 Here you can also see when and where they created their account.
Fun tricks on Instagram
This app is filled with thousands of secret features that most people aren't aware of. We will talk about a few of them that may make your experience on the platform even better than already is:
Pre-post: this trick is especially useful for busy people, such as influencers or companies. If your business is mainly focused on Instagram, or you are planning to, you must have a schedule of posts. This feature lets you plan your posts and set them to a specific date and time so you won't forget to do it later. Unfortunately, it is only available for Professional accounts, you can get one this way:
Go to your profile.
Click on the Edit Profile button.
Select the option that says Switch to Professional Account.
Follow the steps by filling in the info of your business or what you do.
Save your favorite posts: you may already know that you can save as much as posts and reels that you want, but did you also know that you can actually organize them by collections? This will help you if you tend to save a lot of things that you like or information and later you have trouble finding them, but you just have to do this:
Go to your profile.
Click on the three-line icon that is in the top right corner.
Open the option that says Save.
Next, click on the Plus icon that is on the corner.
You can directly save posts that you saved previously or click on next.
Then you have to put a name to your collection and if you want, select a cover.
Now you can save any post as usual, but if you want to put it in a collection, you have to press and hold the Save icon until your collections show up and select which one you want.
Hide the pictures others tagged you in: we all have been tagged in a post that we really don't like, and as you may know, all of these will appear on the tagged section of your profile, if you find yourself often in this situation, you can avoid it with these steps:
Go to the tagged section on your profile.
Look for the post you want to hide.
Click on the three-dot icon that is on top of the picture.
Select Tag options.
You can either choose Hide from my profile, if you simply don't want other people to find it on your profile, or Remove me from post, this way you won't have any connection to the post. The authors of the post won't be notified of any of this.
Restrict people: you will love this trick if you don't like someone that much but not enough to block them. If you restrict them, they will still be able to interact with you, but whenever they send you a message, it won't appear on your DMs, but your requested messages instead, and if they comment on one of your posts, they will be the only ones that can see it. Restrict accounts this way:
Go to the profile of the person you want to restrict.
Open the menu of the profile by tapping the three-dot icon in the corner.
Choose the Restrict option and it is all settled.
If you ever want to unrestrict them, you have to do the same steps.
Unfollow inactive accounts: if you think you are currently following too many accounts, you can go to your profile and unfollow all the accounts that aren't active enough or you simply don't interact with them. Just go to your profile, then to the people you follow and they will be categorized between Least interacted with and most shown in the feed. You can select the first one and unfollow all instead of checking all the profiles.
Final lines on how to see old Instagram bios
Hopefully, Instagram keeps adding more and more features like the ones we talked about in this article. It is always fun to take a look at the changes of your account and Instagram has made it very easy for the users to do so.
Also, maybe you can try one or two of the tricks we talked about after you have seen your past bios and shared this article with all of your friends.
More Posts for You: