One of the biggest platforms to interact with other people is Instagram. You can share your whole life on this social media through pictures and videos for everyone to see. They started with only posts, but they have introduced other features, like stories, reels, and more over the years. But, can you watch Instagram stories or live anonymously?
Among the many features Instagram has, the live broadcast videos have gained popularity. They are an excellent way to share what you are doing on live time with your followers, whether you are bored with your friends, doing an interview, or even at a show.
Still, just like the rest of Instagram's functions, everybody will know when you are broadcasting or watching one. If you are looking for a few tips on using Instagram anonymously, the following article will be perfect.
Watch Instagram live anonymously
You may have noticed that whenever someone enters a live broadcast, their username will automatically show up announcing that they are watching. However, people often would like to watch the live without others knowing.
Sadly, there is no way to hide or protect your identity when you enter someone's Instagram live other than doing a couple of tricks that could get you out of trouble.
Use another account: this may seem so obvious that sometimes we forget it is an option. If you want to watch the live, you can always use someone else's account or even create a new one just for the occasion.
Watch the live later: this option is a long shot because not everybody saves their lives as IGTV videos after they finish. Still, if you are sure that this will be the case, you can wait until they save it and watch it without anybody knowing.
Don't interact: this method is a bit risky; you have to make sure many people are on the live before you enter. It will show that you joined the live for a couple of seconds, but your name will never show again if you don't comment or like. The broadcast host can't know who enters their live unless they see their name.
Change your username: if you don't have time to create another account or borrow one, you can quickly change your username and profile picture, this way, no one you know that is also watching the live won't notice your presence. Here's a quick step by step to change it in case you forgot how to do it:
First, launch the Instagram app and log into your account.
Go to your profile.
Click on the button that says Edit Profile.
Now write your new username and tap on the picture to change it.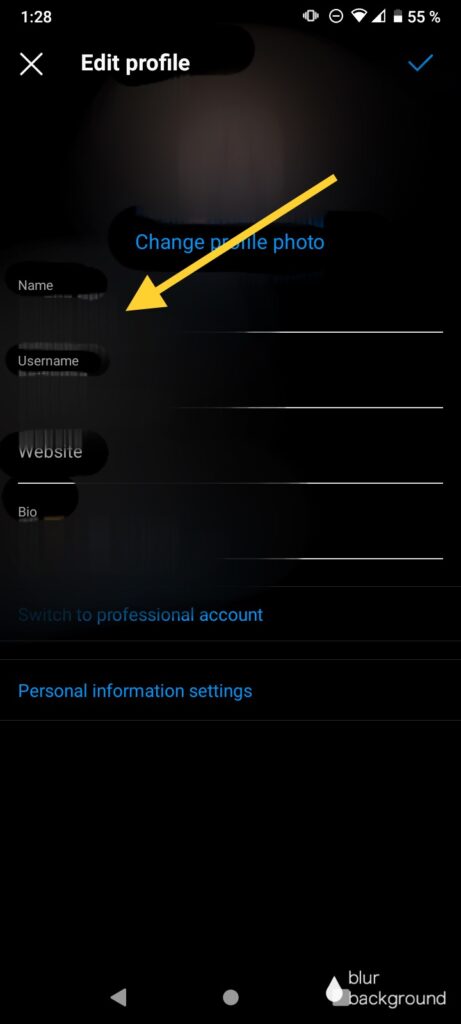 You can also change the name that shows on your bio.
Finally, you can watch the live.
Tip: the previous tricks can also help you if you want to watch someone else's story without them knowing, but you can also try using Anon IG Viewer.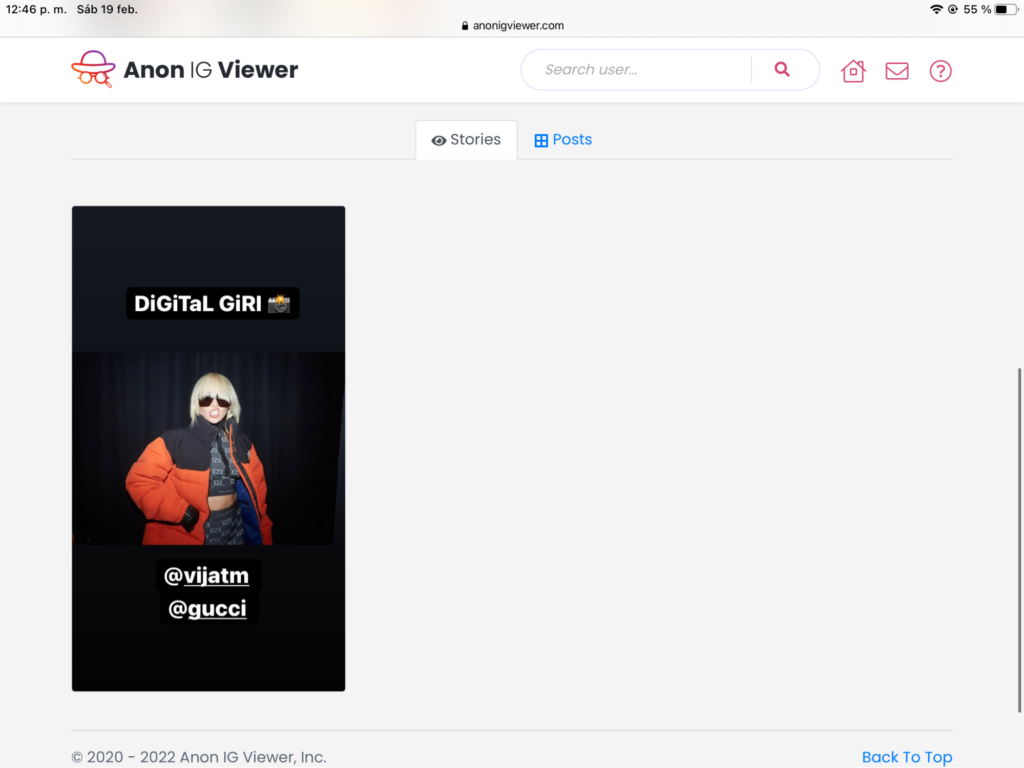 How to use Anon IG Viewer to watch stories anonymously
Anon IG Viewer is a website that allows people to watch stories without the creator knowing and download them.
It has become popular this past couple of years because it has been reported to be safe and easy to use.
You have to do this:
Look for Anon IG Viewer on Google or enter this link https://www.anonigviewer.com
Once you are on the website, write the user that posted the story you want to watch.
Wait while the searcher does its job, and when it is ready, click on the correct user.
This will take you to a new page similar to their Instagram profile; scroll down to see their current stories and most recent posts.
Now you can see all their stories, but they won't know you saw them.
If you want to download one of them, click on the one you want and then tap on Download. A couple of minutes later, it should be finished.
Tip: there are other similar websites if you instead use one different, such as Storiesdown. Also, this trick will only work on stories that are from public accounts, and you can not interact with them in polls, questions, or quizzes.
Can I know when someone watches my Instagram story?
Though you can see who has seen your story by tapping on it and then clicking on the viewers, you can not see when they did it, and of course, you won't be notified. Also, despite Instagram having some similar features to Snapchat, you won't be able to know if someone screenshots your story or if they send it to someone else.
If someone is watching your stories and you aren't happy about it, you can either turn your account private and then block them, this will prevent them from seeing anything from your profile, including your posts, and they won't be able to message you or find you as long as they remain blocked.
But, if you only want to hide one story from them, you can do it like this:
Open the app and go to your profile.
Tap on the three-line icon located in the top right corner.
Now click on Settings.
Then, go to the Privacy section.
There are a lot of Interactions sections, like Comments, Posts, Guides, and more. Again, you can enter each one to configure your privacy this time. First, you need to select the Story one.
Next, on the Hide story from option, click on the number of people to select the users you want to block from your stories. Here you can also choose who will be among your Close Friends and different settings regarding your stories, such as who can reply to them, share them, etc.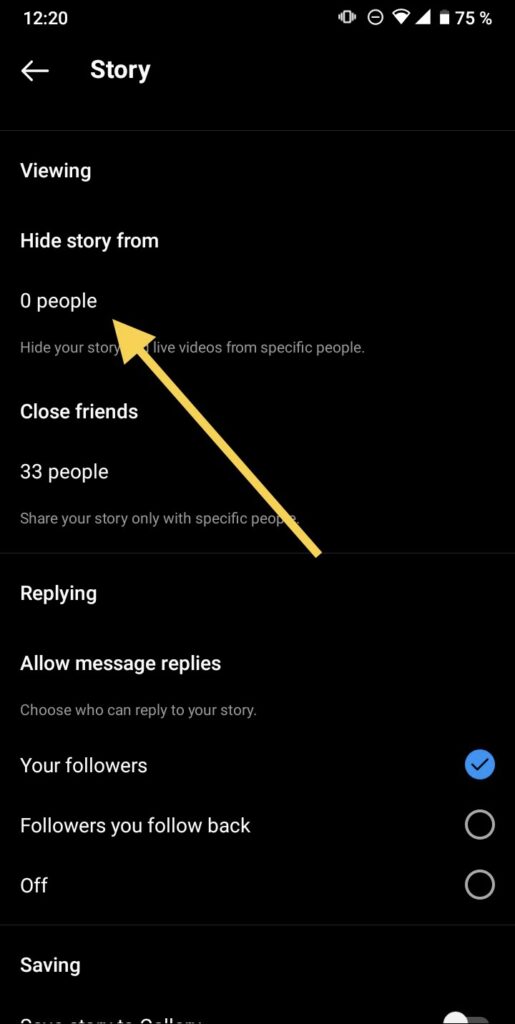 Tip: you can also hide your lives from other accounts. You need to enter the Live section instead of the Story one, and then choose who you want to hide your stories from, and don't worry; they won't be notified.
How to hide someone else's stories
We all have that one friend who posts many stories almost every day and keeps showing up first in our timeline, but we can not unfollow them because it will be awkward.
If you are struggling with a similar situation, luckily for you, you can avoid their stories this way:
Once you have opened the app and made sure you are logged into your account, scroll through the stories to find the one you want to hide.
Press and hold before opening it.
Now click on Mute.
Then choose if you want to mute only their stories or posts.
You won't see their stories anymore, and they won't know it.
Tip: to unmute them, you have to go to your profile, open their story, click on the three-dot icon in the right corner and click Unmute story, and again, they won't be notified.
Can you do anonymous questions on Instagram?
The Question sticker has been around for a couple of years, and back when it was first introduced, one of the main concerns was whether they were anonymous or not.
Sometime later, people realized that people who received the question could see who asked. Since then, millions of users have begged Instagram to create a new feature with this characteristic.
Still, even though you can't make anonymous questions, you can trick people into thinking they can do so. This prank is as easy as it is hilarious; follow the following steps:
Create a new story.
Add the sticker questions.
Now change the name to "Ask me an anonymous question".
Next, change the sticker's color; this is what will deceive people into thinking it is a new feature.
Finally, post it and wait for what people want to ask you in secret.
You can add a description to the story saying something similar to "look at this new sticker" to make it more believable.
Final Lines on how to watch Instagram live anonymously
Nowadays, it is challenging to remain 100% anonymous online. So most social media create their platforms to be as public as possible. Still, you can always use one of the tricks we explained earlier in cif want to be undercover or if you are a private person and you can watch Instagram live anonymously.
Perhaps in the future, Instagram will listen to everyone's prayers, and they will introduce some anonymous and more intimate settings. We hope the article was helpful to you and you use the tricks safely and with caution.
Lastly, we don't recommend using third-party apps that allegedly let you use Instagram or any app anonymously since they are not official, especially if they ask for your personal information. Though social media is highly public and everything is linked, you still have to be careful who you share your personal information with.
More Posts for You: