What is something all people have in common? Music. We listen to it when we are happy, when we are sad, in all sorts of situations, so being the big part of society it is, the way we listen to it has evolved over the years. From classic vinyl and cassettes to CDs that turned into MP3 and iPods, now we can listen to music any way we want, whenever we want.
Even though there are millions of CD and vinyl lovers globally, the most popular way to listen to our music is through streaming services. So whether you are an Apple Music user or a Deezer fan, you may have heard about Spotify.
This platform has more than 180 million subscribers worldwide that have gathered since 2006 thanks to its unique features that stand out from other services. That's why today, we'll show you how to see what people are listening to on Spotify, as well as many other features.
How to see what people are listening to on Spotify?
Spotify is a social media, so they have a few features that are all about sharing and interacting. To see what other people are listening to on Spotify, you have to follow them; if you don't know how to do it, keep reading the article to learn a couple of methods.
Once you follow them, you can only see what they're listening to through the computer version. Unfortunately, they haven't put this feature in the mobile version, neither iOS nor Android.
When you open the desktop app, you will see a panel on the right that will show your friends' activity, meaning that you will see what they are listening to at the moment or what was the last thing they heard if they aren't currently on the app.
This feature is supposed to work in real-time. However, it can glitch or not refresh if the app hasn't been updated recently.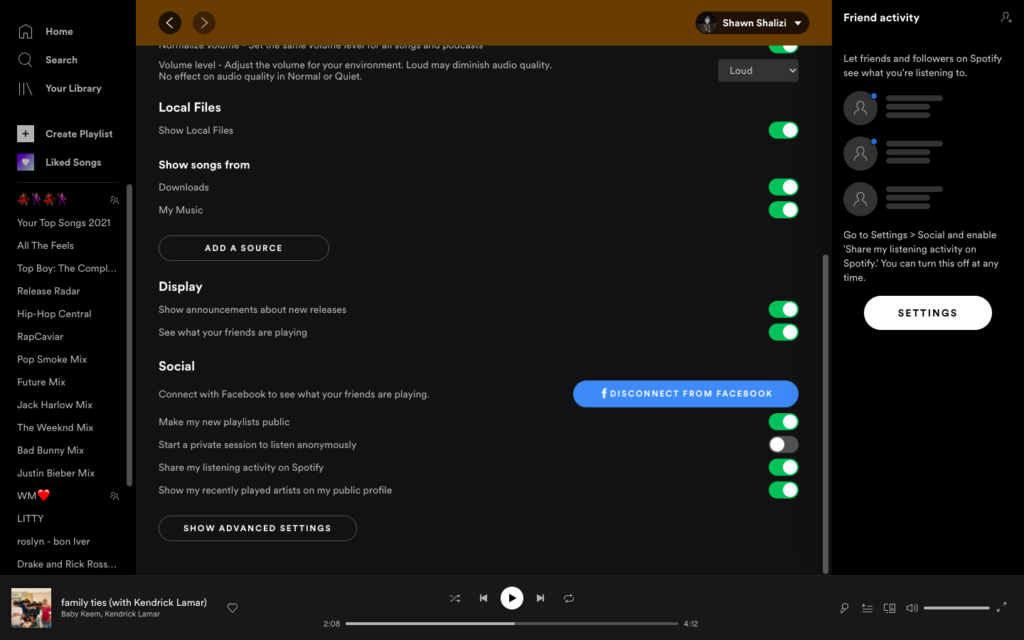 Tip: you won't see what other people are listening to if they have this preference turned off.
What to do if the Friends Activity panel doesn't show?
Sometimes when you update the app, this section suddenly stops showing. Most people think that this is because the last version of the program deleted this feature, but it is just a preference that went off. You can fix it this way:
Go to the Settings of your account by clicking on the arrow on the top right of the window.
Scroll to the Display Options section.
Turn back on the "See what your friends are playing" option.
Go back to the main page. The panel should be back.
If the activity still isn't showing after you enable it, you can try closing the app and opening it again or logging out and back in.
How to follow someone on Spotify
As we mentioned earlier, to see what others are listening to at the moment, you have to follow them first. Not everybody is aware of this feature, but it is as easy as other platforms. There are a few ways you can find someone else's account; you can try them if the other isn't working or doesn't suit your situation.
Look for their username on the search section
This is the most prominent and quickest way; if your friend has a regular username, you can go to the search section to look for a song or an artist and write down their name. You may have to scroll down a little since the top items will be the most popular ones, but eventually, you can find them and guide you by looking at the users' profile pictures.
Click on their profile and tap on the Follow button when you find them.
Through a link on the mobile version
Many people have random letters and numbers as their username because it was randomly generated when they created their account, so they can be very tedious and hard to find, as we explained later. However, you can try to follow them by using the link to their profile. This one is beneficial if you are not with your friend at the moment.
First, you'll need to have their link; of course, they can share it by entering their account then their profile. Next, they have to click on the three-dot icon located on the top right corner, and finally, choose Share.
Then, they can select whether they want to copy the link or send it directly through another app, like Twitter, Facebook, and more. Then, when they send you the link, you can click on it, and it will automatically open in their profile; the last thing to do is click on the Follow button.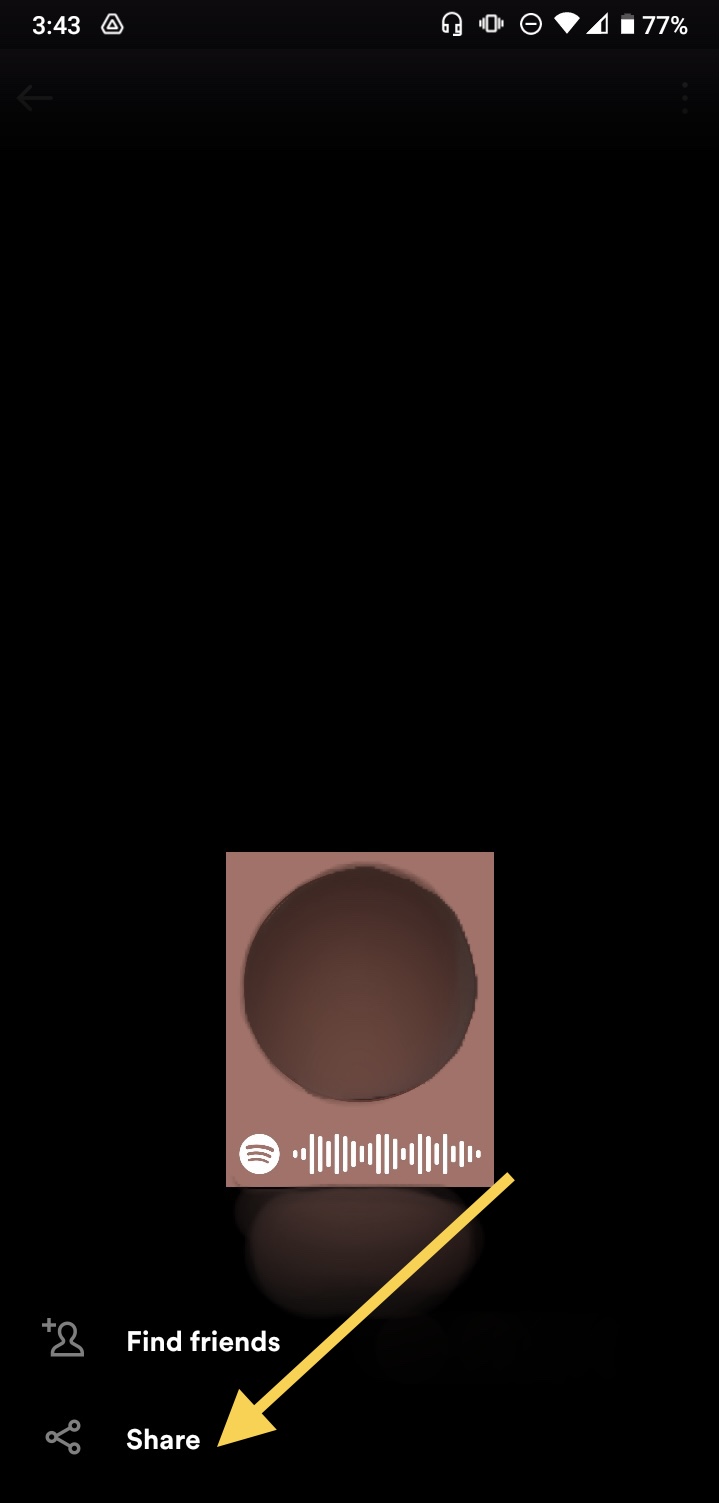 Using Spotify Code
This last option is speedy. It is similar to the previous method, but it is better to do it with your friend. When they are on their profile and click on the three-dot icon, their Spotify Code will show up. Meanwhile, you have to go to the search section and click on the Camera icon on the search bar. So now you have to scan the code and follow them.
Sync your Spotify to your Facebook account
This works excellent for reasonably active people on Facebook; when you sync both your accounts, you will be able to see the reports of your friends that have it synced too.
Tip: whenever you want to go to one of your friends' profiles you already follow, you can enter through your profile by clicking on the 'Following' section. Also, all of the previous procedures will work if you are looking for a singer or a band in particular or if someone wants to share a discovery with you.
How to share what you are listening to at the moment on Spotify
If you can see what songs are on repeat on your friends' Spotify, it is fair that they know what you are up to too. You can decide whether you show your activity or not using this method:
Open the Spotify app and make sure you are logged into your account.
Go to the Home section.
Click on the gear icon located in the top right corner to open your settings.
Scroll down to the Social section.
Turn on the toggles for the Listening activity option.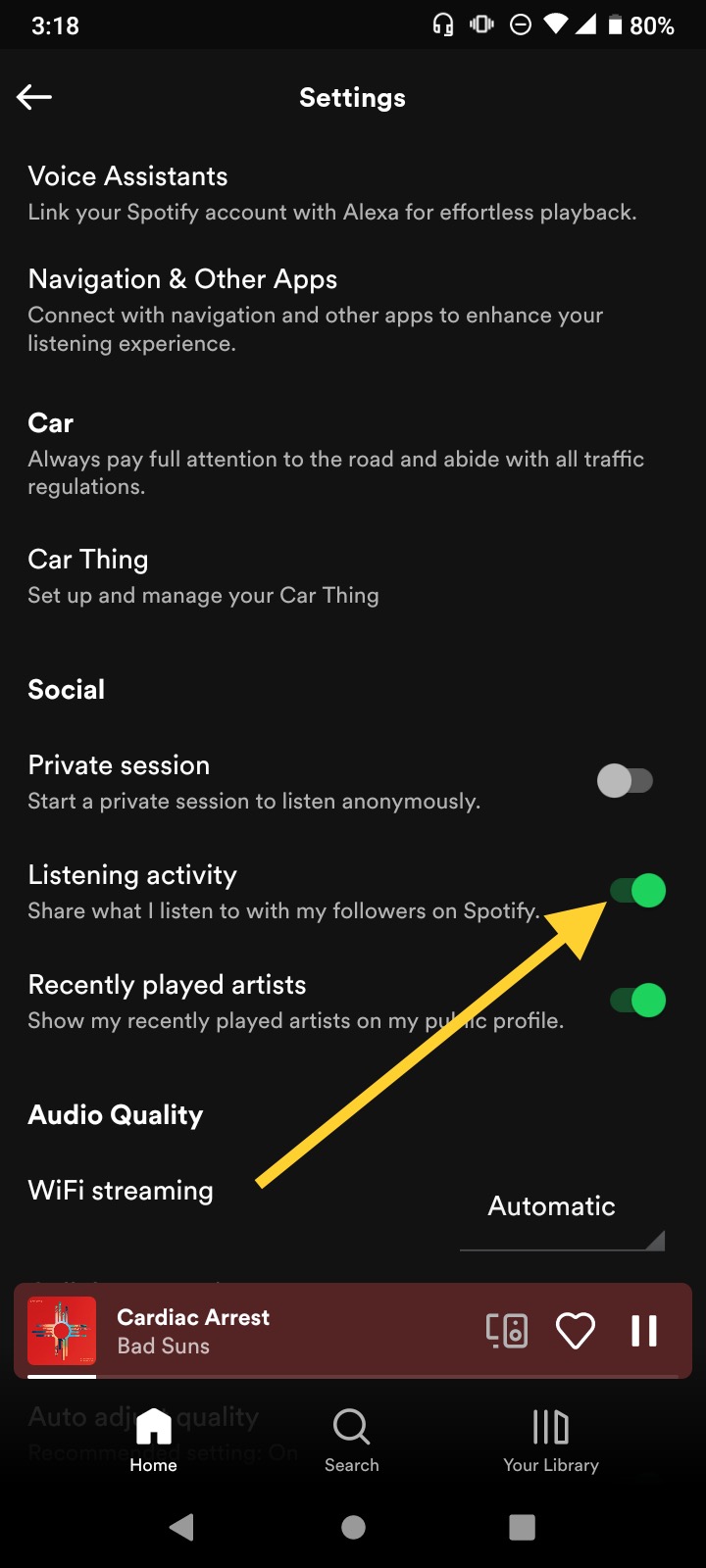 Now your friends will be able to see what you are listening to.
You can also switch the one for Recently played artists. This setting will allow your recently played artists to show up on your profile and everyone can see them.
Tip: as we explained before, the activity feature is available on the desktop version of Spotify; still, you can change this preference through the mobile app.
How to make a Blend playlist
This is another cool feature that you can share with your friends. You can create a shared playlist with any of your friends that will be randomly generated by the platform mixing your common interests; it is effortless to do this way:
Once you have opened the Spotify app, go to the Search section.
You will see a lot of options you can enter to discover new music, this time you have to enter the one that says Made for you.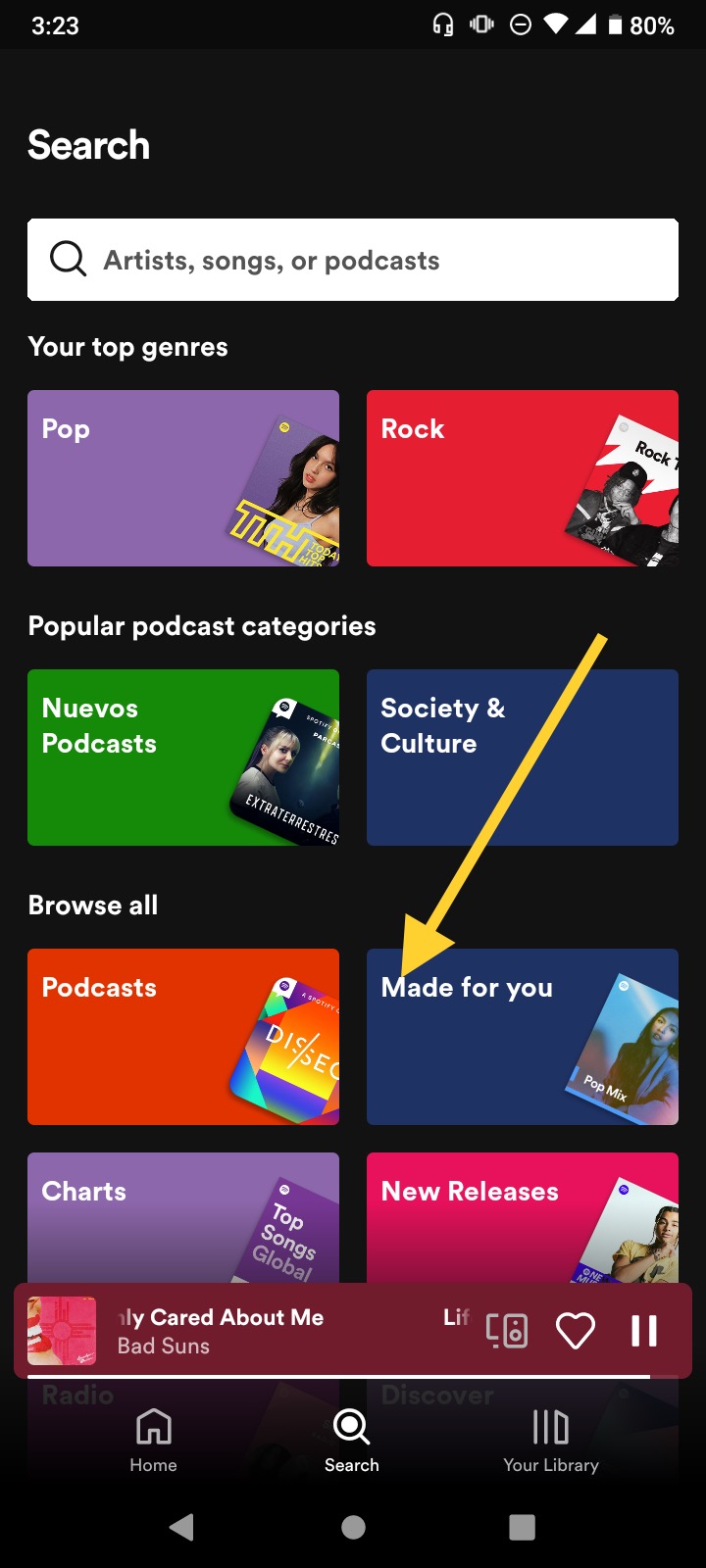 Here you can see all the playlists the app has created according to your algorithm, meaning your preferences. You can scroll down to see the ones based on your favorite artists, your most listened to genres, and more.
The first section you will see is called Made for Us, here will be all of your blend playlists.
Tap on Create a Blend.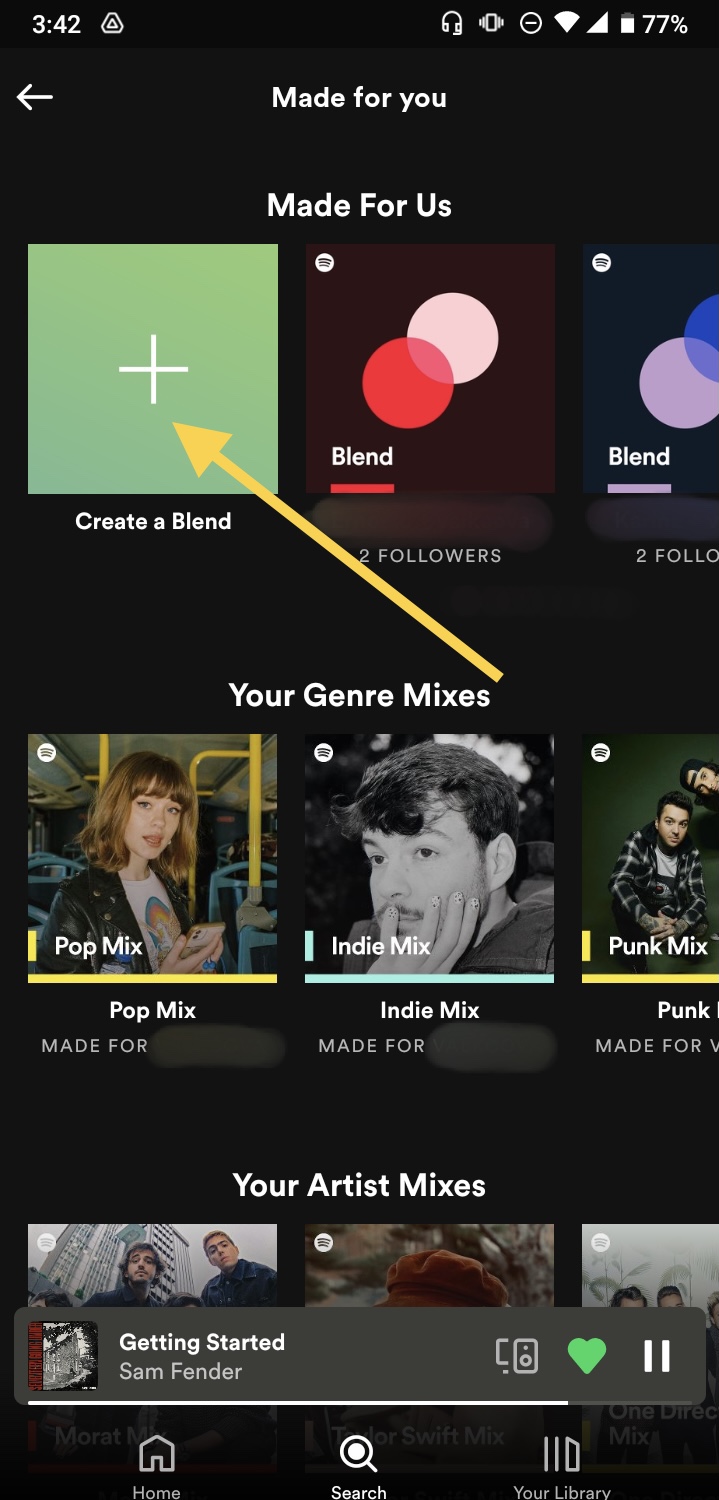 Then, click on Invite and this will show you a lot of options, like copying the link, or sharing it through one of your social media. Select your preference and send it to all of your friends you would like to share your music with.
Tip: when the playlist is created, you can open it to see how much you and your friend have in common and even see a little 'story' that will show you the song that you share and more. You can go back to this section whenever you want to know the Blend playlists that you haven't recently played.
Final Lines on How to See what People are Listening to on Spotify
We hope this article was helpful to you and your friends and you can enjoy your music together. These are just a few of the many features Spotify has for its users, so maybe next time you'll learn a couple of tricks that will make your experience on the platform even better.
Fortunately, this service is very friendly and easy to use, as you may have noticed when we talked about how you can see what other people are listening to or when we show you all the methods you can use to follow another account.
More Posts for You: