A lot of our readers have asked us why is there a lock symbol on Snapchat. If you are a Snapchat user and also confused by this padlock/lock-looking icon, then you have come to the right place.
Snapchat is one of the most used social media platforms in the world right now. Due to the uniqueness of the app, many new users have started to use the app recently. However, as a new user, you might be getting familiar with the app.
And you have come to see an icon that looks like a padlock or lock. So you want to know what the use of that particular icon is. Fear not! We have the answer to your question. Just keep reading the rest of the post and you will know a lot about the Snapchat lock symbol.
What is the Lock Symbol on Snapchat
You should already be familiar with Snapchat stories. There are different types of stories on Snapchat such as My Story and Our Story. Now, you can share your Snapchat Story as you want using the app.
On top of that, you can also set a certain Snapchat story as private. That means that a particular Snapchat story will not be shared with everybody on your friend list. And when a Snapchat is set to private, then it has a 'Lock' symbol next to it.
So you can say that the padlock symbol on Snapchat refers to the particular Snapchat Story that is private. So what is a private Snapchat story? A Private Snapchat Story is a bit different than Our Story or My Story in terms of privacy.
Typically, you can select a privacy setting while sharing stories on Snapchat. And, if you want a particular story to be shared with only a certain person or a number of persons, but not the entire friend list, you can do so.
That way, you can share a Snapchat Story knowing that only the particular persons are able to see that Snapchat Story. This is entirely the opposite of sharing a story publicly on Snapchat.
If you share a private Snapchat story with a particular person on your Snapchat friend list, only that person will see the story and the padlock symbol next to the story. On the other hand, nobody other than them will even know that you have shared a private story with someone.
You can create multiple private Snapchat Stories for different sets of Snapchat friends. After you have created a Private Story, it will be visible on your profile page of yours. And you will be able to add more moments to that Private Story in the future as well.
However, the only restriction to private Snapchat Stories is that a user can create up to 10 private Snapchat Stories at a time.
Methods of creating a Private Story on Snapchat
Now that you know what that lock symbol means on Snapchat, you might want to know how to bring that into use. In this part of the post, we will be sharing how to create private stories on Snapchat.
So that you will be able to share Snap stories to only certain members of your friend list. As a result, those snap stories will also contain the lock symbol. Here's how to do it.
Steps to Follow
First of all, open the Snapchat app on your phone
Then, log in if you haven't already, using the correct login credentials
Now, tap on the profile icon from the top left corner of the screen. It will open your Snapchat home screen
On the contrary, you can also access this page by tapping on your story thumbnail or bitmoji icon
Next, you have to tap on the '+ Private Story' option from under the Stories section
In doing so, a list of all of your friends will appear on the screen. You will now have to choose the particular friends you want to share this story with. So tap on every friend that you would like to share this story with to select them
After that, you will be able to create the Snapchat story. So you can shoot a video or capture a photo and use the widgets or filters to your liking
Finally, you need to tap on the Send button from the bottom left corner of the screen. The send icon looks like a paper airplane
Once you have done that, you will see that the new private story is created and on your profile page
Also, you will see the lock symbol next to it
That is it. You have now created a private story on Snapchat which will bear the padlock/ lock icon next to it.
FAQ about Lock Symbol on Snapchat
We hope that you have a good idea about the lock symbol on Snapchat by now. At this point, we will be answering some frequently asked questions about the padlock icon on Snapchat. So here we go.
What is the Difference between sending individual snaps and a Private Story?
You might have thought that sending an individual snap to a friend is similar to a Private Story. However, there is a bit of difference between these two features of Snapchat. If you are sending an individual snap, you shoot the video or take the photo first. After that, you send it to the person you want.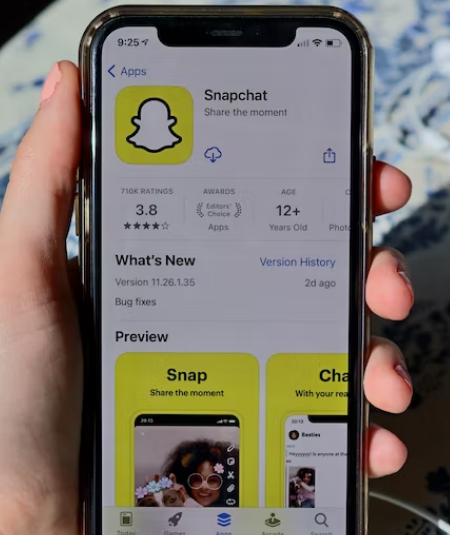 In the case of a Private Story, you need to select the person first, and then shoot the video or take the photo. Also, the name of the friends will appear alphabetically here. While in the case of an individual snap, the name of your friends will appear based on the Streak between you and your friends.
So if you want to share a story with a few friends that you don't communicate with on Snapchat more often, then it will be better to use a Private Story instead of sending individual snaps to each of them.
Will Other People be Able to See Your Private Story on Snapchat?
Simply put, your Private Story will only be shared with the friends you select. Others on your friend list will not be able to know whether you have shared a new Private Story.
What do The Different Colors Of The Lock Refer To?
Based on the way you interact with a Private Story on Snapchat, the color of the lock symbol will change. For instance, the lock will be purple colored, if you haven't watched that Private Story yet. On the contrary, the lock will be gray colored if you have already watched it.
Can I see Snapchat stories with the lock symbol on them?
Yes, if you see a Snapchat story with the lock symbol, you can view that. The lock symbol means that some other people will not be able to see that Story at all. It is set to private by the user that has shared the Story in the first place.
Are There Any Limitations to Private Story on Snapchat?
Normally, there are no restrictions on creating a Private Story on Snapchat. However, you cannot create more than 10 different Private Stories at once.
Does Creating a Private story on Snapchat notify the users in it?
Simply put, no. Other users will not be notified about the Private Stories that you have added. Yes, even if you have selected some particular friends to share that Private Story with, they would not be notified by Snapchat. They need to look for the stories themselves.
How long do Private stories last?
There is no difference between the time periods of a normal Snap Story vs. a Private Story. That means any Private Story will be available for 24 hours. After that period, Private Story will be removed automatically by Snapchat.
Does posting a Private story on Snapchat notify the users in it?
Once again, no. Nobody will be notified if you add any new moments to a Private Story. The approved users will have to check for the updated story on their Stories tab on the Snapchat app.
Final Lines
If you are a Snapchat user who is not familiar with the Lock symbol on Snapchat, we hope this post was helpful for you. We have tried to share all the information regarding the padlock icon on Snapchat in this post.
In addition, we have also answered some frequently asked questions about the lock symbol. So this post should clear up much confusion regarding the lock icon on Snapchat. Still, if you have any more questions about Snapchat, you can let us know in the comments below.
More Posts for You: